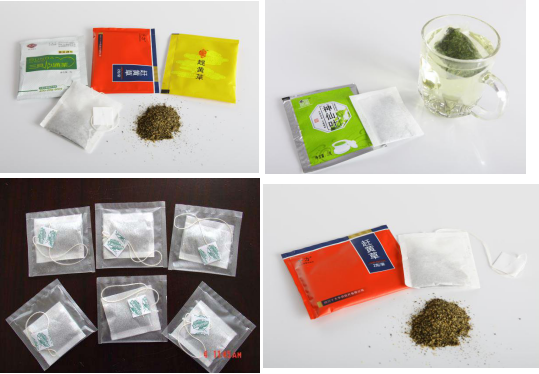 Filter paper bag tea packaging machine is suitable for: black tea, green tea, herbal tea, CTC black tea powder, etc., crushed tea packaging, the product has passed ISO9001-2008 quality system certification and CE EU certification, etc.
C18-2 Automatic Multi-function Tea Bag Packing Machine (Optional with Outer Envelope, Thread and Tag)
(Indirect)

Type: Tea Bag Packing Machine Series
Product model: C18-2
Product name: Automatic Inner and Outer Tea Bag Packing Machine With Thread And Tag (Indirect)lt is suitable for double bag packing of small granular products,such as tea
Purpose: leafs, medicinal tea and health care tea.
The inner and outer bag forming is finished at same time , avoid human handsdirect contact with the packing material and improve working efficiency.
Inner bag is made of filter paper which can be automatically threaded andlabeled .
Feature: The outer bag is made of composite film which biggest advantage is outer bagcan be positioned by photo electricity.
The packing capacity, inner bag, outer bag, and tag can be easy adjust.Theinner bag and outer bag size can be adjusted according to the different
requirements in order to the best packing effect, improve product appearanceand increase the value of the product.
Packing Material: Paper/Plastic,Plastic/Plastic,Plastic/Aluminum/Plastic,PaperlAluminum/Plastic,Tea filter paper,Thread,Tag paper.
Measuring: Volumetric cup filler
Filling range: 3~15ml
Packing speed: 40~50 bags/min
Tag Size: L:20~24mm , W:40~55mm
Thread Length: 155mm
lnner Bag size: L:50~70mm , W:40~80mm
Outer Bag size: L:70~120mm , W:75~90mm
Power: 220V,50HZ,3.7KW
Air supply: ≥0.6Mpa(optional with air compressor)
Weight: 500KG
Dimension: 1250*700*1800mm(L*W*H)